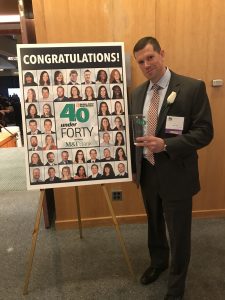 Congratulations to our Managing Director AJ Loedel for being named one of Central New York's 40 Under 40! The honor, awarded every year by the CNY Business Journal, celebrates individuals who have had a positive impact on the CNY region through their personal, professional, and philanthropic pursuits.
AJ was honored for his leadership, dedication to the CNY region, and abiding commitment to ethical business practices. His employees praise his steady demeanor and describe him as "the best boss they've ever had." Our Office Manager is actually the person who nominated him. "AJ never wants to make things about him. It's always about the clients and about the team. I'm glad he's getting the recognition he deserves!"
This year's 40 Under 40 Award Ceremony was held on Wednesday, November 6th at the OnCenter. Every year, Honorees are encouraged to participate in a community volunteer project. This year's non-profit is the CNY Diaper Bank. AJ and the HighPoint team will be supporting their cause with a volunteer day, so keep an eye on our community page.