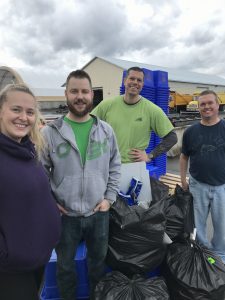 On April 26th, the HighPoint Advisors, LLC team took a day off to help clean up our community as part of Earth Day 2019. This year, we cleaned up a few mile stretch of Butternut Drive in East Syracuse. The rain managed to stay away long enough for us to clean up our chosen stretch of road, and it was really nice to be outside and get some fresh air! AJ was the winner of "most interesting trash find" with a practically brand new hubcap he found at the bottom of a watery ditch. A special thanks to OCRRA for taking care of the garbage that we took off the road.
After our cleanup was complete, we grabbed some pizza, wings, and beer at Trappers II. It was great to get out of the office, help the community, and bond as a team. We look forward to cleaning up another stretch of road next year (although in a perfect world, people would just stop littering). If you have any recommendations for a good spot, please feel free to reach out to our office manager!
OCRRA, the Onondaga County Resource Recovery Agency, helps organize Earth Day Cleanups like ours every year. "No one likes the sight of litter. Regardless of how the litter ended up wherever it is, its presence sends a subtle unintended message about the inhabitants of the land it rests on. But we have the ability to counteract that. Seeing regular citizens out there picking up litter sends a contagious message that we are not just invested in the beauty of our community, but also its environmental wellbeing." We're happy to be a part of their community day!