August 27th, 2020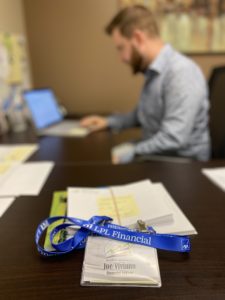 Last week, the HighPoint team settled in to attend the annual LPL FOCUS Conference. FOCUS – LPL Financial's annual education, growth and networking event – usually requires our advisors to travel to a major city. In light of the COVID-19 pandemic, LPL opted to move the conference entirely online for the very first time. While a virtual conference lacks the active engagement and immersion of an in-person conference (I imagine all of us are a bit tired of webinars at this point), it meant our whole office – including staff – could attend the sessions. This was a huge opportunity. Our amazing staff is always looking for new ways to support the advisors and their clients. Direct access to this kind of professional development puts staff on the same page as our advisors, which helps them to expand in-office systems and better support the firm. This frees up time for advisors to focus on tackling industry challenges and spend more time serving their clients.
In typical HighPoint style, we did our best to make this year's FOCUS feel special. How? By bringing the conference to us! Wholesalers sent us reference materials and swag, which staff used to set up a mini expo area in the office. We wore our LPL nametags, set up FOCUS signage, and even ordered lunch from local restaurants (thank you to Spera's of Manlius and Creole Soul for some of the best lunches we've had all year). In between breakout sessions we took walks to keep ourselves active and engaged (conferences usually involve a lot of walking!). Visit our Facebook page for a full visual recap of HighPoint's take on a virtual conference.
While we enjoyed the in-office fun, the real highlight of the three-day conference was the content itself. This year's FOCUS covered market trends, practice management tips, and featured a keynote presentation from Secretaries of State Madeleine Albright and Colin Powell that was equal parts intimate and inspiring. In addition, the conference focused on remote work solutions to help us effectively serve our clients, even when everyone is quarantined in their homes. These client-facing takeaways include:
Account View 2.0 – This mobile app (as well as a redesigned portal) offers clients on-the-go access to their accounts. It hasn't replaced the original Account View, and won't for the foreseeable future, so if you'd like to be migrated to the new platform please contact our Office Manager.
Managing a More Dynamic Practice with Technology – Tips on integrations with tools like eSignature and Zoom will allow us to improve your experience as a client. Updates to E-Delivery will make it easier for you to go fully paperless.
New Texting Solution – For compliance reasons, all of our client communication requires monitoring. That's made texting a non-starter, which is inconvenient for both clients and advisors. Now, LPL has rolled out My Rep Chat, which will allow us to communicate like everybody else! From the client perspective, it will work like you're texting a regular number. On our end, the texts will flow through an app that is monitored by LPL Compliance. Patrick, always an early adopter, has already started using the app with his clients. If you'd like to be able to communicate with your advisor via text, reach out to us today!
Investment Strategies – There are some exciting investment platform enhancements coming, which will help us better manage our client's assets. LPL Research also shared market updates on the current economic climate and insights into the upcoming Presidential election.
The world looks a lot different than it did a year ago, and the continuing education we get at FOCUS will help us to anticipate what's next and develop strategies to better support the financial security of our clients. We're excited to see the many updates and improvements LPL will be rolling out over the course of the next year. We constantly strive to run a smarter practice and deliver an excellent client service experience. Thank you to all of our friends and clients for the continued trust and confidence you place in us.