At HighPoint Advisors, LLC, our clients know that they can rely on us for the long haul. We are not just their financial advisors; we are their friend and neighbor. We are very proud to be part of the Syracuse community, and we make significant efforts throughout the year to give back in meaningful ways. Here are just a few of the events we participated in this past year to help support our neighbors in the Syracuse community.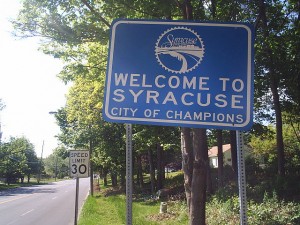 The Syracuse Heart Walk:
As in previous years, HighPoint Advisors, LLC participated in the Syracuse Heart Walk in 2015, which was a fundraising event for the American Heart Association and the American Stroke Association. All walkers are asked to raise money to participate, and thanks to the help of our wonderful partners and team, we were able to raise $1500 this year! The event took place on March 28th, and AJ Loedel, a partner at Highpoint Advisors, along with his wife Carolyn, participated in the walk in spite of the brutally cold temperatures. Advisor Patrick Newton and his parents, Dean and Rita Newton, volunteered in the food service department of the event.
Buy Local Bash:
On November 23rd, HighPoint Advisors, LLC was pleased to sponsor the Buy Local Bash event put on by SyracuseFirst for the fourth year in a row. SyracuseFirst is a non-profit organization dedicated to protecting the vitality of the Syracuse economy and supporting local businesses by encouraging residents to shop locally as much as possible. The Buy Local Bash brings together businesses and community members for an evening of socializing, shopping, and food tasting in order to build awareness about the many unique products and services available in our community. The event was held at the F Shed at the regional market and had a wonderful turnout. Our advisors were thrilled to be able to converse with many new people at our booth. We also increased our sponsorship like we have every year since we started participating.
Earth Day Cleanup:
Keeping the earth clean is an important duty to us at Highpoint Advisors. That is why our team took it upon themselves to do their part this past Earth Day. We spent the day outside of the office and in the community armed with garbage bags and OCRRA stickers, despite it still being a snowy day. We assisted in cleaning the Duguid Road section of Manlius. Through our efforts, we were able to make the beautiful drive through Manlius an even more stunning sight to behold.
HighPoint Advisors Food Drive:
Also in November, we partnered with the Food Bank of Central New York to collect canned goods for those in need in our community. This is our third year participating in the food drive. We placed one bin in our office and another in the entryway of our building. Our drive ran from November 3rd to November 24th, and many of our clients brought cans to donate when they came to our office to meet with their advisor. Thank you to all who participated!
Special thanks to Doug Kerr for the Syracuse image.