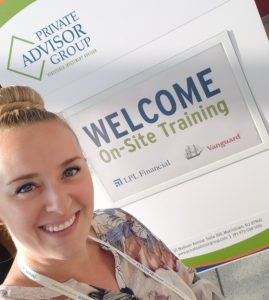 Earlier this month, we sent Administrative Coordinator Chelsea to Private Advisor Group's On-Site Training at the Vanguard Campus in Malvern, PA. The purpose of the day is to enlighten operational and administrative personnel on ways to process common office tasks more efficiently and improve on personal skills. She came back with boatload of updates and information that we're excited to start implementing.
Some of the takeaways included:
• Info on a brand-new Account View, to be released later this year
• Changes to client grouping, which will help us build better account reports
• Compliance updates, to help organize our office to the highest ethical standards
• A comprehensive look at LPL's advisor and staff resources
We're always looking for ways to improve our office and better serve our clients. HighPoint sent Sarah to last year's training, and looks forward to sending any future staff members as we grow.