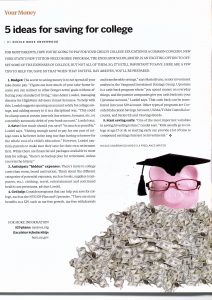 The latest issue of Central New York Magazine: The Good Life features college savings tips from AJ, our Managing Director. It is a bimonthly magazine celebrating people and places in Central New York. It focuses on a broad range of topics that range from politics to philanthropy and from food to fashion.
"For most parents, how you're going to pay for your child's college education is a common concern. New York State's new tuition-free degree program, the Excelsior Scholarship, is an exciting option to offset some of the expenses of college. But it won't cover everything." AJ suggested five things to consider when putting together a college savings plan, including a NYS 529 plan and starting early. "Kids usually go to college at age 17 or 18, so starting early can provide a lot of time to compound earnings/interest on investments."
For the full article, pick up a copy at Wegmans or Barnes & Noble, or, stop by our office to take a look in our reception area.