Whether you're a young professional, married mother, grandmother, or single mom, where you choose to invest your money will have a big impact on your future. The good news is that women on average are much better at investing than their male counterparts. That's why you should take advantage of the trends women are pursuing if you want a greater chance of reaching your financial goals. Here are four investing trends you should pay attention to in the coming years as a woman who invests:
Gender Diversity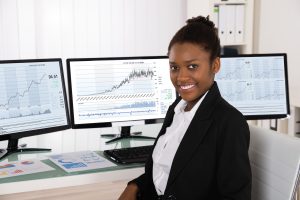 Gender equality in the world's largest corporations has been pretty dismal since the start of capitalism, but things are changing. Investing in companies that pay women equally and hire women for top executive decisions isn't just a social goal; it can actually help you work towards your financial goals. According to research from Quantopian, women-led companies performed three times better than the S&P 500.
Social and Environmental Conscience
Women investors, on average, tend to care more about matching their investments with their personal values, so they put more focus on investing in companies who care about social and environmental wellbeing. As more and more women enter the stock market, companies who care may have more of an advantage. This is often referred to as impact investing. Women are doing their best to let companies know that the negative externalities they produce may affect their stock prices.
Healthy and Organic Foods
Food companies can't continue to only pump out fatty and sugary products if they want future market success. Women who are responsible for taking care of families are especially sensitive to this issue. Join other investors who are telling major food companies that they will only put money into corporations that encourage healthy eating and sell organic products.
Fixed-Income Investments
Many women are often more risk averse when it comes to investing, which means that a continuing trend for women investors may be in fixed-income investments. These include municipal bonds, T-bills, and other instruments that provide more stable returns. Even if you're not near retirement, reserving a chunk of your money for these kinds of investments may provide you with more financial confidence.
At Highpoint Advisors, we connect women with investments that match their social and economic values. We're ready to help you manage a wide range of financial goals. Please contact us today for more information and financial advice about where to invest your money.
The opinions voiced in this material are for general information only and are not intended to provide specific advice or recommendations for any individual. To determine which investment(s) may be appropriate for you, consult your financial advisor prior to investing. All performance referenced is historical and is no guarantee of future results.
Because of their narrow focus, sector investing will be subject to greater volatility than investing more broadly across many sectors and companies.
Bonds are subject to market and interest rate risk if sold prior to maturity. Bond values will decline as interest rates rise and bonds are subject to availability and change in price.
Investing involves risk including loss of principal. No strategy can ensure success or protect against loss.
The fund's concentrated holdings will subject it to greater volatility than a fund that invests more broadly.