If you have specific plans for the future of your property, investments, and other assets, looking ahead is absolutely critical. The future is uncertain, but you can ensure that you and your family are taken care of by expressing your wishes in the proper legal documents. No two families have the exact same needs, so it's important to take the time to create a custom plan that matches your unique objectives.
Must Haves for Estate Planning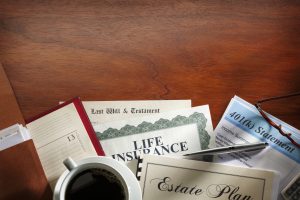 A common misconception about estate planning is that it's just a fancy term for drafting a will or trust. While that's an important component in the process, it's only one part. Here are six things your estate plan should include:
Will and/or trust. The main aspect of your estate plan. Your will sets out where all your assets are going and the trust protects some assets from legal complications and estate taxes. Make sure your will doesn't conflict with the beneficiaries of your insurance plans, retirement accounts or other instruments.
Beneficiary designations. These are the main recipients of your insurance policies and retirement plans. You also need to name contingent beneficiaries in case something happens to your main beneficiary.
Guardianship designations. If you have minor children, or plan on having kids soon, it's important you designate who their guardian will be in case you pass. You don't want a court making this decision for you because it was an item you overlooked.
Durable power of attorney. You assign power of an attorney so that a court doesn't decide what happens to you or your estate in the event you get a serious disability that prevents you from communicating effectively.
Healthcare power of attorney. If you want someone specific to have control over your healthcare decisions in the event you become incapacitated, you can assign a specific healthcare power of attorney. This should be someone you inherently trust and who understands your end-of-life wishes.
Letter of intent. While not necessarily valid by itself in the eyes of the law, a letter of intent will let your beneficiaries and possibly probate judges know what your intentions are for specific assets. This will help in case their is any confusion with other legal documents.
Benefits of Estate Planning with HighPoint Advisors
The experienced investment and estate planning professionals at HighPoint Advisors will work closely with you to help provide a path in working towards your financial goals. We'll present you with options that that seek to provide confidence and financial independence for your family. Our staff is detail-oriented and dedicated to the satisfaction of every client from all financial backgrounds.
At HighPoint Advisors, we'll be happy to start you out with an initial consultation at your convenience. Please contact our office today to speak with a professional adviser about your estate planning goals.
This information is not intended to be a substitute for individualized legal advice HighPoint Advisors, LLC and LPL Financial do not provide legal advice or services. Please consult your legal advisor regarding your specific situation.