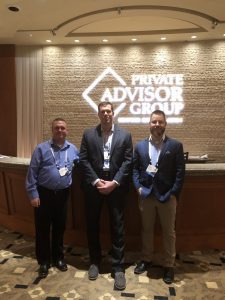 The advisors spent the first half of last week at Private Advisor Group's Annual Conference. The multi-day conference is part of PAG's mission to assist successful advisors in delivering exceptional financial services to their clients. This year's conference covered a myriad of things including new technology to streamline processes, insights into how legislation will affect investors, and brainstorming sessions to improve client services.
Standout sessions from this year's conference included:
A presentation by LPL's Chief Investment Officer, John Lynch
Plan for Their Financial Future: Help Clients Prepare for Long-Term Care Expenses
Disruption: A Blessing or a Curse?
Municipal Market Outlook and Tax Reform Update
Help Clients Build Wealth at Their Workplace
All of our advisors here at HighPoint know that you can't be a top-notch advisor unless you are continuously evolving and learning. They are happy to be back home and ready to share what they learned with their staff and clients!