Teaching is considered one of the most important professions in the country, so anyone that devotes their life to educating either children or adults deserves a comfortable retirement. Unfortunately, teachers aren't given salaries that match their training, education, and dedication to improving society. Pensions still exist for some educators, but benefits in general seem to be going down, and yearly salaries don't always keep up with inflation. If you're a teacher, creating a future with a comfortable retirement takes a bit of extra planning.
Calculate the True Value of Your Pension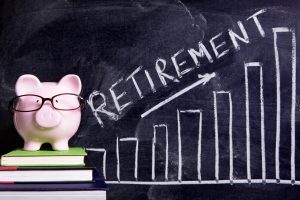 If you're fortunate enough to be in a district that still provides a pension and you know you'll be eligible to take advantage of the benefits, you may not be able to rely completely on this income stream in retirement. A pension very rarely pays 100% of your working salary, so you need to figure out how to match your retirement income with expenses. That may mean downsizing in retirement or increasing your retirement savings while working. Also keep in mind that many teachers who pay into some kind of retirement or pension plan through their state or district are exempt from social security taxes. That means you'll need to make sure any income you need comes from other sources.
Use Tax-Advantaged Retirement Instruments
The IRS has special retirement savings accounts for teachers and other people who work in public or tax-exempt private schools. A normal 403(b) lets you contribute pre tax income into your preferred savings instrument. The contributions grow tax deferred, but you do pay taxes when you decide to withdraw. If you prefer to pay taxes ahead of time, you may be more interested in the Roth 403(b) where contributions grow tax free. You may also want to put your pre tax dollars directly into a 457(b) plan. You're allowed to maximize your contributions to both 403(b) and 457(b) accounts.
Work with a Professional Advisor
As a teacher, you know how important being educated is when it comes to succeeding at any given goal. Retirement is no different. When you work with a professional financial advisor who's dedicated their life to giving individuals and families the tools and information they need to live comfortably, your chances of success can improve. In addition to advisors, there's likely a wealth of information available to you from local teacher's associations, state institutions, or even benefits counselors within your district. Make sure to take advantage of all the resources available to you.
While it's best to start saving for retirement as soon as possible as a teacher, it's never too late. Benefit plans seem to be constantly changing, and information for private-sector employees seems much more abundant, but there are people and resources out there who can help you navigate this complicated process. Contact an experienced financial planner from Highpoint Advisors today to get started. The sooner you act, the better.
The opinions voiced in this material are for general information only and are not intended to provide specific advice or recommendations for any individual. Investing involves risks, including the loss of principal.