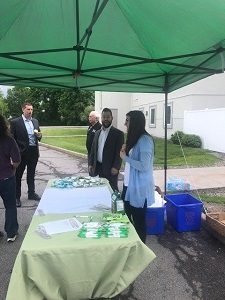 On Thursday, June 9th, 2022, HighPoint Advisors hosted our 10th annual Shred Event! It was a lovely evening to be outside and enjoy each other's company.
Similar to last year's event, we set up the parking lot so that clients could pull their cars up near the shred truck. There was a tent and table at the edge of the lot for us to greet and chat with our clients & friends.
The advisors were available to help shred and chat with clients, and our staff helped clients with account updates such as going paperless, checking beneficiaries, and establishing trusted contacts. We even had some fun giveaways on hand that tied into our theme for the event!
Our secure shredding vendor, Confidata, was on hand as usual for the event. Erik, who operated the shred truck for us this year, explained to our guests what happens to the shredded paper. "It gets shipped securely to a local facility, where it is bailed, bleached, and sent to a local papermill to be recycled into everyday products like paper towels and tissues." Apparently during the pandemic, recycled paper from Confidata was the number one source of toilet paper in the area – nice!
Thank you to everyone who joined us! We look forward to seeing you next year!