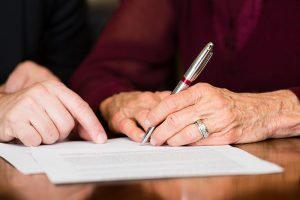 Estate planning can help you plan in working towards a comfortable and stable future for yourself and your loved ones. However, while the process is commonly associated with the distribution of money and material possessions in accordance with a will, this is just one portion of estate planning as a whole. It's equally important to understand the other steps that a thorough estate plan typically requires. Here, we'll outline a selection of the more notable steps you'll encounter once your will has been signed when working with HighPoint Advisors, LLC.
Designation of Beneficiaries
Although the typical will should cover a great deal of your assets, it's essential to be aware that there are a variety of assets that aren't addressed by this legal document. Funds stored in payable-on-death financial accounts, for example, will be sent directly to the beneficiaries named on the applicable forms. Likewise, life insurance policies, IRAs and your 401(k) will benefit only those mentioned within the associated documents. In certain circumstances, you may discover that beneficiaries listed in the past no longer reflect your current preferences. An experienced financial advisor can help ensure the appropriate changes are made.
Address Estate Taxes
Thanks to current U.S. laws, estate taxes only apply to a small fraction of the nation's citizens. If you fall under this category, however, there are steps that can be taken to ensure these taxes have a minimal impact on your estate. Your financial advisor will work with you to create an appropriate tax minimization plan, which may include combining exemptions with your spouse or a number of other tactics that vary based on the situation in question.
Assign Powers of Attorney
During the estate planning process, you may want to consider assigning two powers of attorney: durable and healthcare. Durable power of attorney enables another person to manage your estate in your place, even if you've become incapacitated, to prevent the responsibility from falling into the hands of the court. Healthcare power of attorney grants someone the ability to make key medical decisions – especially during end-of-life stages – based on your preferences.
Plan Your Estate with HighPoint Advisors
Based in Syracuse, HighPoint Advisors, LLC offers highly personalized financial services for every stage of life, including estate planning. We'll work face-to-face to develop a clear understanding of your needs before providing sound financial advice based on years spent proudly serving Central New York. Learn more about our estate planning services by calling us at 315-627-0474, or contact us online to let us know how we can help.
This information is not intended to be a substitute for specific individualized tax or legal advice. We suggest that you discuss your specific situation with a qualified tax or legal advisor.