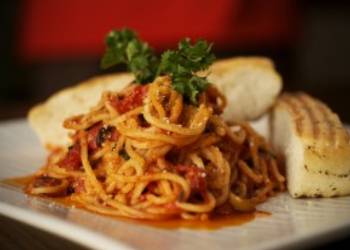 It's always a good idea to push away from the desk and head to a sit-down restaurant to take a little breather and recharge. Syracuse has a wealth of great restaurants that will entice even the most dedicated foodies. Here are some of our favorite lunch spots.
Italian Lovers
If you enjoy Italian food, you have plenty of great restaurants to choose from in Syracuse! DiBello's Restaurant on Onondaga Blvd has excellent lunch specials and serves up a delicious pizza.
Pavone's is another HighPoint favorite for Italian fare.
"I'm not sure it gets better than ziti with meatballs with a couple garlic knots on the side." – AJ
Not Your Mom's Sandwich
Heartland Subs makes everything fresh upon order, including fresh bread and rolls from their on-site bakery.
"I am a huge fan of their hot pastrami with 'the works.'" -Pat
Great sub-style sandwiches can also be found at the Village Deli, as well as fried and rotisserie chicken, fresh salads, homemade soups, and breakfast sandwiches.
"They have great sandwiches and great prices. My dad has been going there for years, and it has now become my favorite lunch spot as well!" – Joelle
Fish and Chips
Bonefish Grill in Fayetteville has delicious bang-bang shrimp and three-course options starting at $14.99, making it a great option for a fancier lunch meeting spot.
Quick and Easy Bar Food
If you're looking for something fast, head down to The Blarney Stone and fill up on mozzarella sticks, chicken wings, or copy AJ's order.
"A Blarney burger with a beer is a killer, any day of the week." – AJ
Business Meeting Appropriate Meals
If you're looking to host a business meeting or any other special event, we recommend Bella Domani for banquet-style service. The Plank Road Chamber of Commerce holds monthly meetings there, the staff is always friendly, and they never serve a cold meal.
"Every buffet is set with a new, unique main dish that is truly delicious." – Terri
When it comes to lunch—and our financial services—you can count on the staff at HighPoint to steer you in the right direction. Dine out at one of our favorite spots in Syracuse, and share your recommendations!