Now a decade ago, Managing Director Adam (AJ Loedel) was a founding partner that launched a boutique financial services firm, HighPoint Advisors, LLC. "We wanted to create a structure that would enable us to do the right thing for people. We thought that would be a good idea for long-term business sustainability and client retention," he says. "Ten years later, I can say that it worked."

Staying modern over the years
The company was formed following various experience of its partners working with other large financial institutions. The firm's chief objective was to have more independence to better serve clients. "Those firms tried to control what their advisors did with clients, telling them what services to use and tried to push proprietary products onto their clients," says Loedel. Neither he nor financial advisors Patrick Newton and Joseph Viviano ever feel those burdens at HighPoint Advisors, LLC. The firm is independent and can align with any company that encourages and supports independence. "For ten years we've had control over what to do with our clients and how to manage our client relationships. We've never been told what products or services to suggest to a client," he adds.
The financial services industry has undergone many changes since Loedel began his career in 2003, including many changes to legal compliance. Regulators and lawmakers are constantly trying to intervene in the financial services industry. However, the company readily adjusts to new legislation, with the advisors and staff at HighPoint Advisors, LLC, making sure that disclosures and other documents are up to date and all legal requirements are met.
Technology is always improving and changing, as well. The key to the company's survival and its continuing ability to serve clients is flexibility. "We've adapted very well over time," Loedel says. "We've always been a very modern company on the front-end of trends and the best service models. I see us constantly re-investing to stay there. We wouldn't be where we are now if all that wasn't true."
When the COVID-19 pandemic started to shut down other businesses, the team was well-prepared to pivot and continue communication with clients and vendors. This was due to their forward-looking business continuity plan already in place, which included the ability to conduct business electronically via various technology platforms. As an added service to clients, they sent out multiple rounds of what the firm called Digital Care Packages. These contained ideas for things to do at home, offered financial check-up items, shared favorite recipes, and provided links to virtual events and tours. They were meant to be fun things to help clients get through the pandemic.
Supporting Local
"I know personally how difficult it is to own and run a small business," says Loedel. Being headquartered in Syracuse, and aware that other business owners feel similar pressures, HighPoint Advisors, LLC helps when it can by utilizing local firms when possible. For example, the company purchases office supplies from several local companies and schedules client events at local venues. "You name it, we always try to look at local companies first," says advisor Joseph Viviano.
One of those local companies is the Syracuse Mets, and for quite a few years HighPoint Advisors, LLC has invited new clients to a special evening at a ballgame with the Triple-A affiliate. Charity events are also on the company's schedule for participation, among which is the annual Heart Walk sponsored by the local chapter of the American Heart Association. "The company likes to support the local community, as well as its own employees," adds advisor Patrick Newton. "We want to support our team and support the causes that are important to each of us."
Community Shred Event
To promote financial hygiene, security and confidentiality among its clients, HighPoint Advisors, LLC extends an open invitation to an annual Shred Event. Clients can bring paper documents to be safely shredded and recycled. This is something the firm's clients have come to expect, and they have clients who have become accustomed to saving documents that need shredding for this event. As a service to the community, this event is also open to the public.
For more information, contact HighPoint Advisors, LLC.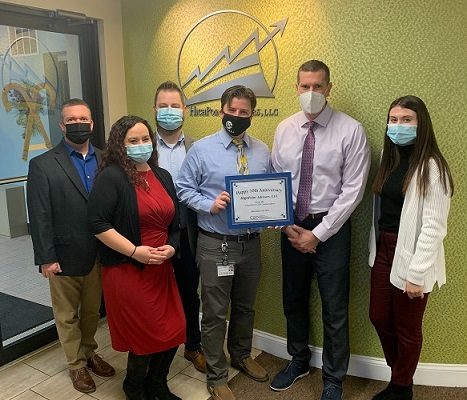 The opinions voiced in this material are for general information only and are not intended to provide specific advice or recommendations for any individual. Securities offered through LPL Financial, Member FINRA/SIPC. Investment advice offered through Private Advisor Group, a registered investment advisor. Private Advisor Group and HighPoint Advisors, LLC are separate entities from LPL Financial.
Tracking # 1-05215268